Dental Implants in Rogers, AR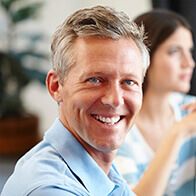 Losing one or more teeth can be a devastating blow for anyone. Not only does your oral health suffer, but your self-confidence can be so damaged that it's hard to even smile without fear of embarrassment. Thankfully, Dr. Todd Phelan and his team here in Rogers, AR are happy to offer multiple reconstructive solutions that can beautifully replenish your missing teeth in a natural-looking way. We strongly recommend dental implants, in particular, for their revitalizing health benefits and long lasting quality, and our office will be happy to create gorgeous restorations that you can enjoy for years to come.
The Dental Implant Process
Your natural teeth are composed of two important parts – the white, visible portion that's called the crown, and the portion hidden under the gumline called the root. Dental implants are the only reconstructive solution that actually replicates both structures instead of just the crown. This addition helps to stimulate the jawbone and keep your smile as healthy as can be.
Once we've determined through an evaluation that you're an ideal candidate for dental implants, Dr. Phelan can recommend a trusted oral surgeon or periodontist in the area who can handle the surgical portion of your procedure. This will involve placing one or more implants within the jawbone. Following this, patients will need to undergo a period of healing, during which the tissue will heal and the implants will form a natural bond with your jaw.
Restorative Options
Once your mouth has successfully healed from the implant surgery, you'll return to our Rogers practice so that we can design and place brand-new, quality restorations that will sit on top and blend in beautifully with your natural smile.
When having single-tooth implants placed, porcelain crowns are the restoration of choice. When multiple implants are placed, there can be other restorative options, such as a bridge, partial dentures or a full denture, but they're designed to attach to a number of strategically placed implants within the jawbone, allowing patients to enjoy much more sturdiness than they could enjoy with the traditional models. There are both fixed (permanent) and removable options available, depending on your personal preference.