Restorative Dentistry in Rogers, AR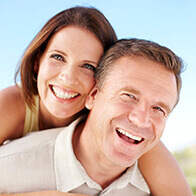 Dental decay and injuries happen to all of us at one point or another. During this trying time, what's most important is that you receive the support and skilled care you need as soon as possible so that negative effects are minimized and you can get back to enjoying a full, healthy smile. That's why patients of all ages from Rogers, Bella Vista, Lowell, Bentonville, and beyond are more than welcome here at the office of Dr. Todd Phelan. Whether you're dealing with a cavity, a missing tooth or missing teeth altogether, our team will listen to your needs and carry out your treatment in a convenient, comfortable, and skilled fashion.
Tooth-Colored Fillings
When teeth develop decay, the best way to restore the tooth back to full health is with a filling. Dr. Todd Phelan and his team do not use mercury amalgam fillings that can cause a noticeable difference in your smile. Dr. Phelan uses high-quality composite resin that look and blend in more naturally. These composite resin preserve the overall health of the tooth structure. Whether you are from Rogers, Bella Vista, Lowell, Bentonville or elsewhere in Northwest Arkansas, Dr. Phelan is able to provide quality fillings and even replace old mercury amalgam fillings!
Traditional Crown & Bridge
Dental crowns can be used to effectively treat a wide variety of dental concerns, including severe cavities, structural damage, or cosmetic issues. Dental crowns are a custom restoration option that fit over damaged teeth or teeth that show signs of decay, which allow the restoration and functionality of the smile. In other offices, a patient has to make multiple visits to have a crown placed. With the use of CEREC technology, we are able to place crowns in the same day! They are also an important component of dental bridges, which offer patients a sturdy solution for replacing one or more teeth. Even a few missing teeth can lead to significant difficulties when performing simple tasks like chewing food or speaking.
Bridges can alleviate the stress caused by uneven teeth and provide much-needed support for your smile. Once the restoration is crafted, it will be bonded onto surrounding teeth for support, and additional crowns that are placed over adjacent healthy teeth will serve as anchors to hold it securely in place.
We also offer implant-retained bridges, which are placed over a number of placed implants in the jawbone and offer patients even more seamless durability.
The success of your new bridge will depend on its foundation, which is why it's crucial that patients continue to practice diligent homecare and attend regular check-ups at our Rogers, AR practice.
Root Canal Therapy
It wasn't too long ago that teeth with damaged nerves had no treatment options available, requiring them to be extracted. Today, root canal therapy can serve as the saving grace for your tooth, restoring its health and function. Dr. Phelan will first remove the diseased pulp and bacteria from the inner chamber of the tooth before cleaning and thoroughly sealing the area to minimize further infection. A quality, tooth-colored crown serves as the finishing touch, which covers and protects the structure.
Dentures & Partial Dentures
If you're missing multiple teeth, don't despair. Dr. Phelan can provide a personalized partial or full denture that restores your smile and allows you to chew and speak with confidence once more.
We recommend that patients with dentures continue to brush their gums, tongue, and palate every morning in order to stimulate circulation in the tissues. It's also a good idea to regularly visit for denture fit check-ups as well as attend regular oral cancer screenings. Our office can also professionally clean your dentures for you, allowing them to look good as new!
Advanced Restorative Care
Being able to improve a person's smile through restorative care is a precise art, and one that shouldn't be undergone with just any dentist. Dr. Phelan has done extensive training and continuing education with the Spear Education and Dawson Dental Education Continuum so that he can provide his patients with care that's revitalizing, long-lasting, and exceptional in quality.
CEREC One-Visit Dentistry
In the past, patients who needed dental restoration with crowns, bridges, inlays, and onlays would have to plan for at least two visits to our Rogers dental practice, but with our state-of-the-art CEREC system, we're able to offer the same high-quality, all-ceramic restorations in just one appointment. CEREC stands for chairside economical restoration of esthetic ceramics, and it is a computer assisted design and manufacture (CAD/CAM) system that allows us to prepare teeth, capture digital dental impressions, craft a restoration, and place the final product all in one day. Benefits of CEREC include:
Save time with the full dental restoration process in a single visit
The advanced CAD/CAM system allows us to scan the tooth gathering precise digital impressions that are quickly and easily transferred to our CEREC milling unit
Crafted from a single block of ceramic, CEREC restorations are less likely to crack, chip, or break away from the tooth over time compared with those restorations made from multiple materials
CEREC restorations look and feel natural
No more messy impressions or temporary crowns