Specialty Dentistry in Rogers, AR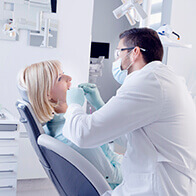 Here in Rogers, Dr. Todd Phelan and his dental team want to do everything we can to ensure your comfort and satisfaction. Traveling to outside practices for the care you or a loved one needs can be time-consuming and tedious, which is why our dedicated staff is happy to offer high-tech tools and specialty services right here in our office. We'll improve your smile in the smoothest, most personalized manner possible!
Gum Disease Treatment
Periodontal disease (also known as gum disease) is an infection of the tissues that support your teeth, and it comes with common warning signs like persistent bad breath, bleeding or swollen gums, a sudden change in your bite, and teeth that appear longer. It's also very possible to be experiencing a case of periodontal disease that exhibits no symptoms an untrained eye would notice. This is why regular examinations are so important when it comes to preserving your health. If Dr. Phelan does discover the presence of periodontal disease, our team can provide in-depth cleanings and other treatment options that will revitalize the health of your smile.
Digital X-Ray Technology
For your convenience, our Rogers office is happy to offer the state-of-the-art DEXIS digital X-ray system. Instead of the traditional silver-oxide X-ray film that had be developed slowly in caustic solutions, our new system captures detailed images that are instantly sent to a nearby computer for easy viewing and educational purposes. Better yet, they emit up to 90% less radiation than traditional machines, making them much safer for the patient.
Sleep Apnea Treatment
Do you suffer from chronic snoring? This seemingly harmless habit could actually be an indicator of a much more serious condition known as sleep apnea. Sleep apnea is characterized by the blockage of the airway during sleep, leading to pauses in breathing that can occur up to hundreds of times per night. Because of this, patients with sleep apnea tend to experience daytime exhaustion, painful headaches, tinnitus, and other unpleasant symptoms. If you've been diagnosed with sleep apnea by a specialist or general doctor, don't hesitate to contact Dr. Phelan. We can provide you with a customized oral appliance that can hold the jaw or tongue in a better position, allowing you to breathe easy throughout the night.