Meet the Dentists
Dr. Todd Phelan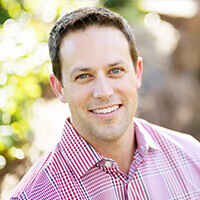 Originally from Benton, AR, Dr. Phelan actually grew up in a family of dentists! His dad works in the field, and his uncle and cousin are orthodontists to boot. In high school, he decided that he wanted to go into healthcare of some sort too, but it wasn't until he'd looked into a variety of professions that he realized dentistry was the best fit for his strengths, his personality, and his ultimate goals in life. After nearly two decades, he still feels confident that he made the right choice! He loves working with such an amazing group of professionals every day and creating beautiful smiles for his patients.
Dr. Phelan spent his college career at Baylor University in Waco before moving on to achieve his Doctor of Dental Surgery at Baylor College of Dentistry in Dallas. He has also undergone additional training through Spear Education, Dawson Academy, Dental Education Continuum, CDOCS, and more.
At home, Dr. Phelan loves hanging out with his awesome wife, his three sports-loving boys, and their Golden Retriever. Outside of doing whatever the kids are doing, some of his favorite hobbies include traveling (preferably to warmer weather with a beach nearby), fly fishing, and playing golf. He's a proud Arkansas Razorback, Baylor Bear, and Chicago cub fan! He also considers himself a little bit of a "foodie" and likes to try new dishes at restaurants, as well as cook/grill interesting meals at home too.
Dr. Luke Jamison, DDS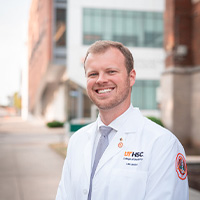 Dr. Luke Aaron Jamison, a Benton native, joined our practice after earning a Doctorate in Dental Surgery from the University of Tennessee Health Science Center. Prior to that, Dr. Jamison graduated from Ouachita Baptist University, where he spent time as a collegiate swimmer and a member of the Men of Beta Beta. He was inspired to pursue a career in dentistry after spending much of his childhood as a patient himself - he became fascinated by the enormous change in his smile and his personal self-confidence. Dr. Jamison enjoys working with people of all ages, improving their quality of life and their smiles, all while building one-on-one relationships with his patients and teammates.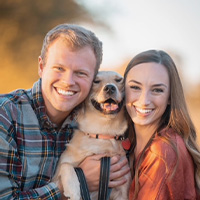 While at Ouachita, Dr. Jamison met his sweet wife of four years, Samantha, and together they are raising a Golden Retriever named Gentry. In his spare time, Dr. Jamison enjoys golf, hunting, trout fishing and following Razorbacks sports. In addition, he enjoys exploring new places with his wife and dog and trying as many new restaurants as possible!
More to Explore